Being CPE Certified Starts Here! Participants are provided professional education related to the transportation system and the operation of ports, vessels, and marine terminals.
Call Toll Free 24/7 to Register 1.866.219.6563
CPE Certified Port Executive Alumni
Who is part of the CPE Certified Port Executive Alumni Network?
Anyone who has completed the CPE Certified Port Executive Program™. If you have taken one of our publicly offered programs or an in-house program through your organization, you are considered Alumni. Welcome!
What are the benefits of being an Alumni?
Alumni members receive a 10% discount rate on all programs if they have taken a program with us in the past 24 months – either in our public programs or in-house through their organization*.
An Alumni membership card – you will receive your personalized card upon request at the end of the program along with your certificate.
Invitations to special Alumni Networking events – we schedule at least two events per year, one in Long Beach and one in Florida. These events include two-three day conferences with presentations, panels, a CPE Round Table and an expo with demonstrations. They feature presentations by business leaders and your fellow Alumni.
Access to the PORTSTAR Seaport Security Training Program.
Publication Discounts – Alumni members can enjoy special discounts on select industry publications.
* Some conditions apply. Please contact our Customer Care team.
How do I get my CPE Certified Port Executive™ Alumni Card?
All participants attending a program starting Sept. 1, 2018 will be given their membership card on completion of the program. Participants who have already completed a program should email our Customer Care Centre and a card will be sent to them.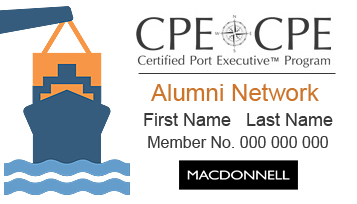 Questions about the Alumni Network?
A member from our customer care department would be pleased to assist you. Please contact us by email at certifiedportexecutive@macdonnell.com or by phone at (902) 425-3980