Being CPE Certified Starts Here! Participants are provided professional education related to the transportation system and the operation of ports, vessels, and marine terminals.
Call Toll Free 24/7 to Register 1.866.219.6563
Participants
Most common job titles of Certified Port Executive Alumni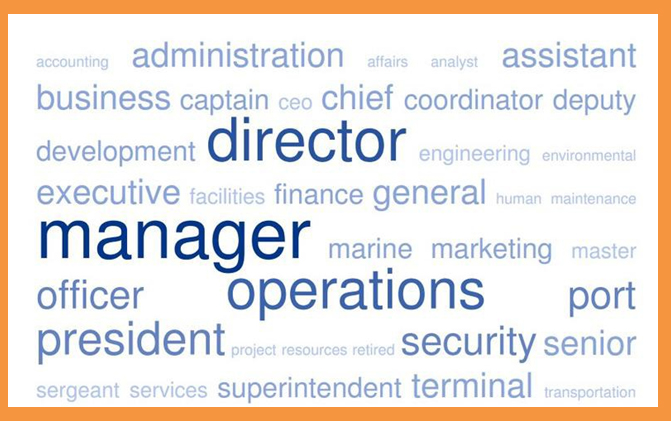 Below is a list of organizations that have enrolled employees in the CPE program.
Alabama State Port Authority
Alaska Railroad Corporation
Alaska State DOT
Alcoa Materials
AllTrans Port Services, Inc.
American Waterways Operators
Anguilla Air and Sea Ports Authority
Antigua and Barbuda Port Authority
APM Terminals
Argentia Port Corporation
Barbados Port Authority
Bay of Plenty Regional Council
Belledune Port Authority
Bethel Port
BlueSea Maritime Security, LLC
Brevard County Sheriff's Office
Briggs Equipment
British Virgin Islands Port Authority
Buckeye Partners
Canadian Coast Guard
Canexus
Canpotex
Cargoways Logistics
Caribbean Port Management
CBSA Marine Centre of Expertise
Ceres
Charlottetown Harbour Authority
Citrus County Port Authority
City of Homer
City of Nome
CMA CGM
Coastal Cargo Company
Commissionaires Nova Scotia
Connecticut DOT
Corner Brook Port Corporation
CrossGlobe Transport Ltd
Cruise America
CSX Transportation
CTCH
Dartrans Inc
Delaware River Stevedores Inc.
Delia Petroleum
Department of Homeland Security
Derrick B. Cameron Enterprises Inc
Detroit/Wayne County Port Authority
Dole Fresh Fruit Company
DP World Nhava Sheva
Economic Cities Authority
Empire Grain Stevedoring Ltd
Essroc Italcementi Group
Falaba Marine
Federal Marine Terminals
First Choice Marine Supply
Florida DOT
GAC Shipping (USA) Inc.
Gateway Shipping
Goderich Port Management Corp
Great Lakes Pilotage Authority
Greater Victoria Harbour Authority
Greater Houston Port Bureau
Haines Borough
Haisla Nation Council
Halifax Port Authority
HDR Engineering
Homer Port & Harbors
Houston Pilots
Hunter Industries
ICL
Independent
Independent Container Line
Intermarine
International Liquid Terminals Association
Jordan Ports
Jurong Port PTE LTD
Kennedy Jenks
Kinder Morgan Terminal
Kingston Wharves LTD
Lamar University
Laurentian Pilotage Authority
Logistec
Maher Terminals LLC
Manatee County Port Authority
MARAD/DOT
Marine Institute of Memorial University
Maryland Department of Natural Resources
Maryland Port Administration
McLaren Engineering
Metro Ports
Miami River Marine Group
Midgulf Association of Stevedores
Nanaimo Port Authority
Natchez Adams County Port
National Defence Canada
National Port Security Services
Nature Group Plc
Nautilus International Holding Corporation
Nevis Air and Seaport Authority
New London Port Authority
New Orleans Terminal LLC
New Orleans Terminal LLC
Northwest Protective Service, Inc.
Old Dominion University Maritime Institute
Oneida Total Integrated Enterprises
Orlando Melbourne International Airport
OSG Ship Management Inc
OSISS
P&M Brick
Pacific Coast Terminals
Pacific Harbor Line
Pacific Maritime Association
Parrish & Heimbecker
Pasha Group
Penn Terminals
Pennington Moore Wilkinson Bell & Dunbar
Plaquemines Port
Plaquemines Port Harbor
Port Alberni Port Authority
Port Authority of New York & New Jersey
Port Authority of Saint John's
Port Canaveral
Port Newark Container Terminal
Port of Anchorage
Port of Coatzacoalcos
Port of Corpus Christi
Port of Dalhousie
Port of Galveston
Port of Houston Authority
Port of Juneau
Port of Long Beach
Port of Long Beach
Port of Longview
Port of Los Angeles
Port of Montreal
Port of Morgan City
Port of New Orleans
Port of Nome
Port of Oswego
Port of Palm Beach
Port of Port Arthur
Port of Prescott
Port of Providence
Port of San Diego
Port of South Louisiana
Port of St Helens
Port of Stockton
Port of Houston Authority
Port St. Maarten
Port Tampa Bay
Port Vancouver Canada
Port Vancouver USA
Ports America
Ports Association of Louisiana
Prince Rupert Port Authority
Puertorico Terminala
Quicksilver Resources
Ridley Terminals Inc.
Rio Tinto Alcan Inc.
Rosedale Bolivar County Port Commission
Royal Canadian Mounted Police
Satellite Logistics Group
S-Cubed Pacorini Logistics
Sea Consolidators
Sea Star Line
SeaBoard Marine
Seamen's Church Institute
Securitas Canada
Ship Shape Consulting
Siemens
Sitka Economic Development Association
Souris Harbour Authority
South Carolina Ports Authority
South Tangipahoa Parish Port Commission
Squamish Terminals
SSA Marine
St. Anthony Port
St. Maarten Harbour Group of Companies
Stevedoring Services Ltd
Sultran Ltd
Sunoco
Sunoco Logistics
Sydney Ports
Tampa Electric Company
Targa Resources
Terminal Systems Inc.
Tesoro Logistics
Texas A&M Maritime Academy
Texas Dock & Rail
Texas Southern University
The Jackson Kearney Group
The Mosaic Company
Thunder Bay Port Authority
Tortola Pier Park Ltd.
Total Terminals International
Town of Shelburne
Transport Canada
Tropical Shipping
TSI Terminal Systems Inc.
U.S. Cold Storage
University of Houston
US Coast Guard
USCG
Valleytank Inc.
Viterra Inc.
Wallenius Wilhelmsen Logistics
Walmart
WATCO
Waterson Terminal Services LLC
West Cameron Port Commission
Western Forest Products
Westshore Terminals
Willacy County Navigation District
World Port Security Council
Port of Yarmouth